PowerISO shows the mp3 Ripper dialog.
Select the output folder, and set the output file format to Mp3. The default output file name format is "<Track Number>-<Track Title>.mp3", you can change it by clicking with down arrow button.
The output file mode can be "multiple files" or "Single file". If multiple files mode is selected, each track will be ripped to a separate mp3 file. For single file mode, a single mp3 and cue file will be created. The cue file contains information about all tracks, while mp3 file contains real compressed audio data.
To change other mp3 ripping settings, please click "Config..." button. The "MP3 encoder dialog" will popup. You can review or change the following settings,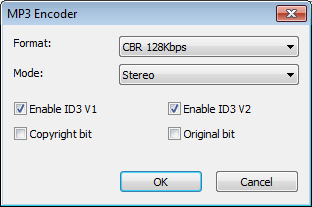 Format: Specify the encoding method and bit rates.
Mode: Specify the encoding method. The value can be Stereo, Joint Stereo, Dual Channel, and Mono.
Enable ID3 V1
Enable ID3 V2
Copyright bit
Original bit